Organizing in & for Society
At the heart of my research are concerns around how hybrid and new forms of organizing engage with multiple values, logics, purpose, and meaning, in particular in the face of institutional pluralism and grand societal challenges. While organizations encounter competing pressures, they seek to maintain unity in diversity. To examine this further, my work is guided by two broader research streams.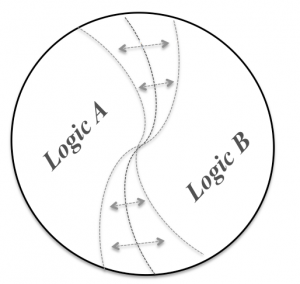 Organizations, institutions and society
First, I focus on how multiple values, logics, purpose, and meaning shape hybrid organizations and how they become more resilient to better cope with complex, competing, contradictory, conflictual and even paradoxical demands. In this research stream, I have published articles on elastic hybridity in the Academy of Management Journal, academic entrepreneurship in Research Policy, entrepreneurship and Islam in Journal of Business Ethics, institutional logics and religion in Business & Society as well as entrepreneurial opportunities and values in Innovation: Organization & Management. Further working papers look at organizational hybridity and paradox plus organizational hybridity and institutional complexity.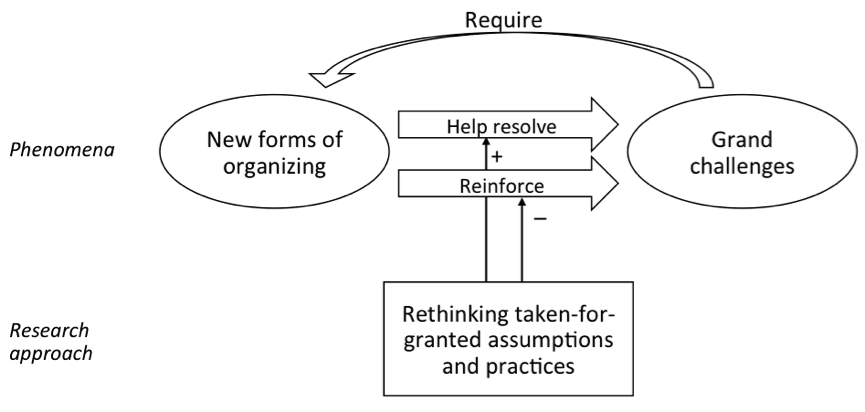 New organizing for soci(et)al change
Second, I study how novelty in forms of organizing facilitates engagement with grand challenges and how to lead and organize for soci(et)al change (cf. DFG-funded scientific network). Grand challenges represent fundamental, global societal challenges of ecological and social nature that require coordinated and collective efforts. In my empirical cases, I focus on digital, flexible, fluid, cross-boundary, multi-jurisdictional, and temporary forms of organizing such as co-creation spaces, social movements, social incubators, and sustainable community hubs that tackle challenges like climate change, decent work and sustainable growth, gender equality, populism and racism, societal cohesion, responsible consumption and production, and sustainable cities and communities.
In addition, along a sociology of social sciences perspective, I reflect on how societal complexity feeds back methodologically and conceptually in my research endeavors and social sciences more generally, in particular research team constellations, ethnographic practices, and multimodal methodologies. I am interested in who, how, and why we inquire, the jurisdictional boundaries of our profession, concerns along rigor and relevance, the (trans)formatory role of social sciences in and for society, engaged, passionate, humble and meaningful scholarship, ontological imprinting, epistemological scaffolding, as well as practical and prescriptive implications.
More recent work looks at the role of AI in the Leadership/Future of Work: the relationship between human intelligence (HI) and artificial intelligence (AI) in the context of work within organisations. Together with a research team, my interest is motivated by an important research gap related to arguably one of the most far-reaching scenarios in the foreseeable future. In this scenario, AI co-exists, co-evolves and co-works with humans – but does not completely displace or replace them. This leads us to ask through a multi-disciplinary discourse: What will an AI augmented future of work look like?