Unser DFG Netzwek "Grundlegende gesellschaftliche Herausforderungen und Neue Formen des Organisierens" kommt zu seinem natürlichen Ende. Das Netzwerk traf sich fünfmal und pflegte auch zwischen den Treffen einen intensiven Austausch. Die Treffen fanden von 2018 bis 2021 an fünf unterschiedlichen Standorten und Institutionen statt. Jedes Treffen bot ein vielfältiges Angebot bestehend aus inhaltlichen Auseinandersetzungen und sozialen Aktivitäten sowie Planung des Research in the Sociology of Organizations (RSO) Volumen und je zwei Keynotes. Darüber hinaus gab es einen regelmäßigen Austausch auf Konferenzen wie die Academy of Management (AOM) oder der European Group for Organizational Studies (EGOS) und durch Online-Treffen.
| | | |
| --- | --- | --- |
| | Datum | Ort |
| Treffen I | 04.-05.10.2018 | Universität Hamburg |
| Treffen II | 14.-15.03.2019 | Vrije Universiteit Amsterdam |
| Treffen III | 19.-20.09.2019 | Rotterdam School of Management |
| Treffen IV | 05.-06.03.2020 | Leuphana Universität Lüneburg |
| Treffen V | 20.-21.09.2021 | Humboldt Institute for Internet and Society (HIIG), Berlin |
Treffen I: 04.-05.10.2018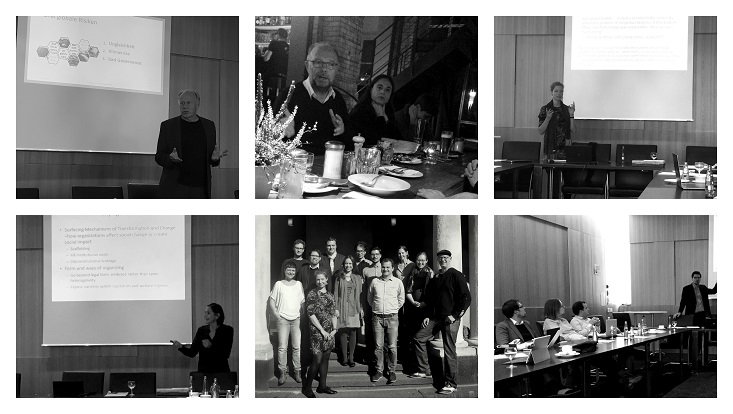 Ziel des ersten Treffens war ein Verständnis für die Komplexität der Grand Challenges und neuer Formen der Organisation zu entwickeln. Es sprachen Keynote-Speakers Johanna Mair, Professorin an der Hertie School of Governance (über ihre Erkenntnissen zum Verhältnis zwischen Innovation und Skalierung) und Juliane Reinecke, Professorin am King's College London (über ihre Arbeit zu nachhaltigem kollektiven Engagement). Bernd Ulrich, stellvertretender Chefredakteur der deutschen Tageszeitung Die Zeit, hielt eine Dinner-Rede über zentrale Probleme unserer Zeit: den Klimawandel, die Verschiebung der globalen Machtdynamik und die nationalen Folgen. Jürgen Trittin, ehemaliger deutscher Bundesminister für Umwelt, Naturschutz und nukleare Sicherheit sowie kurzzeitig Bundesminister für Ernährung und Landwirtschaft, sprach über ähnliche Probleme wie Ungleichheit, Klimawandel und schlechte globale Governance.
Treffen II: 14.-15.03.2019

Es sprachen an der VU Amsterdam die Keynote-Speakers Jennifer Howard-Grenville, Professorin an der Judge Business School der Universität Cambridge, und Frank de Bakker, Professor an der IESEG School of Management in Lille, Frankreich. Wir erörterten einflussreiche aktuelle Beiträge zur akademischen Literatur über Grand Challenges und neue Formen des Organisierens; und widmeten uns der Frage, wie diesen Herausforderungen in unserer eigenen Forschung, Lehre sowie in der Praxis begegnet werden kann. Wir diskutierten, wie eine Wissenschaft gefördert werden kann, die dazu beiträgt, Grand Challenges durch neue Formen der Organisation anzugehen. Ebenso zentral waren methodische und pädagogische Herausforderungen sowie verschiedene Strategien, um mit unserer Arbeit eine deutliche Wirkung zu erzielen.
Treffen III: 19.-20.09.2019
Es sprachen an der Rotterdam School of Management (RSM) die Keynote-Speakers Tima Bansal von der Ivey Business School (zu Managementtheorien und Nachhaltigkeitsstrategien) und Joep Cornelissen von der RSM (zu Organisationstheorien im Zusammenhang von Grand Challenges). Auch haben wir das weitere Vorgehen des RSO Volume geplant – samt darin erscheinende Kapitel sowie anschließender Mitteilung der Ergebnisse in Wissenschaft und Gesellschaft. 
Treffen IV: 05.-06.03.2020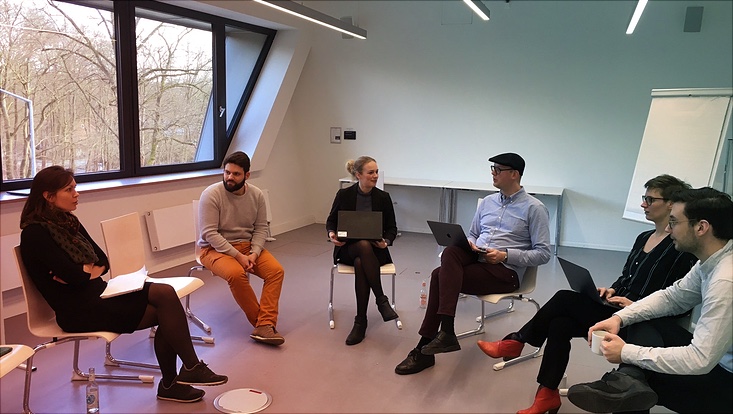 Es sprachen an der Leuphana Universität Lüneburg die Keynote-Speakers Professorin Jana Costas von der Europa-Universität Viadrina (mit kritischer Perspektive auf den Begriff der wissenschaftlichen Öffentlichkeitsarbeit) und Professorin Laura Marie Edinger-Schons von der Universität Mannheim (über die beeindruckenden Lehr- und Aufklärungsmaßnahmen, die ihr Team und sie mit einer Vielzahl von Partner*innen durchführen). Vorträge und Diskussionen zu Formen der Lehre, Formen der Gestaltung/Organisation, Formen der Prüfung und "Best Practices" in der Öffentlichkeitsarbeit förderten die Debatte darüber, wie Forschende mit Fachleuten und der Gesellschaft im Allgemeinen in Kontakt treten können. 
Treffen V: 20.-21.09.2021
Das fünfte und letzte Netzwerktreffen der Forschungsgruppe war auch das erste persönliche Treffen seit dem Beginn der Pandemie. Es sprachen am Humboldt Institut für Internet und Gesellschaft in Berlin die Keynote-Speakers Professorin und Co-Gründerin von Scientists for Future Maja Göpel (zu Wissenschaftlichkeit als bedingte Entstehung oder bewusste Entscheidung) und Professor Gert Wagner (zu Wissenstransfer). In ihrem Workshop verbanden Professor Leonhard Dobusch und Dr. Anna Jobin eine Vielfalt an Herausforderungen mit Medienaufmerksamkeit und Arbeitsbelastung. Abschließend besprachen wir die nächsten Schritte des DFG Netzwerks für die nahe Zukunft inklusive Förderung und Publikationen.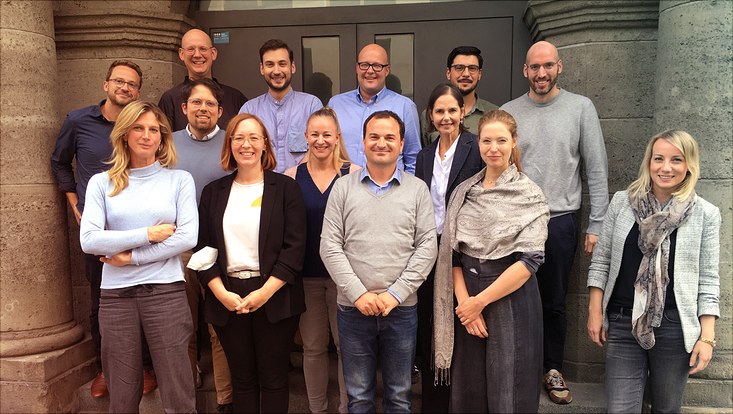 Fazit: Das Netzwerk endet, die Arbeit geht weiter.