Blogpost first published at the Skoll Centre for Social Entrepreneurship Website.
Making science useful
Academia is far too often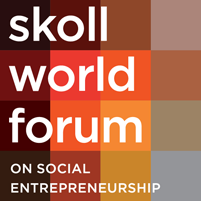 removed from practice. Thousands of books and articles are written about innovation and practitioners feel inclined to ask: so what? Johanna Mair, Professor of Organization, Management and Leadership at the Hertie School of Governance and Academic Editor of the Stanford Social Innovation Review and Christian Seelos, a visiting scholar at the Stanford University Center on Philanthropy and Civil Society who previously directed the IESE Platform for Strategy and Sustainability, feel and understand this frustration. In a session on the balancing act of innovation and scale at the Skoll World Forum they engage with the audience as a step towards bridging these diverging worlds: by intervening more productively in the world in a scholarly way.
From innovation as an ideology to innovation as a process
Much scholarly attention concentrates on the creation of social ventures neglecting established organizations and the question of how to innovate continuously. Mair and Seelos stress that innovation needs to be seen as a process, not an ideology: "Innovation is not the holy grail." We often overrate the value of innovation, undervalue the importance of failed innovation and underappreciate the difficulty of innovation. Innovation is a complex process and a long and continuous development from idea over evaluation to experimentation. Along the way organizations face many pitfalls. Ideas often never get started; or end too early. Reasons are, for example, a strong target focus, power struggles, fearing punishment and potential failures, a homogenous workforce and too much distance of managers from the frontline.
Productive innovation
Andrew, a Skoll World Forum attendee, comments: "The ideas are there, but opportunities are not." Many heads nod. The remark hits one of the core problems that Mair and Seelos convey: Organisations need innovation routines and processes. Ideas are normally not enacted by individuals. They require groups and both formal and informal engagement. Innovation consists of idea generation, evaluation, experimentation and enactment. Within this difficult and complex process, organisations should artistically balance innovation and scale by exploiting past and targeting future innovations given the availability of resources – in a process of productive innovation.