A brief interview I gave to Diplomatic Courier as a chosen Top 99 under 33 Foreign Policy Leader:
Describe the impact on foreign policy you have made in your current/past positions.
Through talks, writings and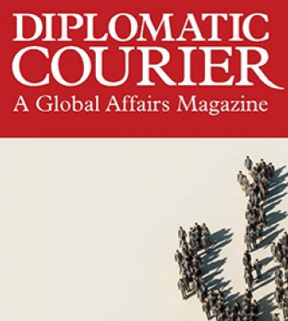 consulting on topics such as innovation, (social) entrepreneurship, and strategy, I hope I have provided tools to tackle and reconceptualize global societal problems towards value-based (foreign) policies. Most recently, I have co-edited a book in German called 7 Virtues Reloaded. Members of the Think Tank 30 of the Club of Rome have applied wisdom, moderation, courage, justice, hope, faith, and love to current societal topics such as the educational system, data abuse, energy sustainability, or social and cultural struggles of meaning. We reflect on the present to change the world of tomorrow with virtues from the past.
What personal contribution to foreign policy are you most proud of?
Transferring knowledge and creating linkages across borders and boundaries. I have co-founded the social incubator Zahnräder Network based on my research on academic entrepreneurship in the UK, and then applied it to the German Muslim context. Zahnräder encourages and enables social entrepreneurship, has been supported, for example, by the British Council, Youth for Europe, and Ashoka Changemakers, and won the Social Entrepreneurship Academy Public Choice Award in 2012.
What is your vision of foreign policy in the 21st Century?
I think our understanding of both terms–"foreign" and "policy" will change due to much more fluid boundaries, which are leading to a complex web of engaged stakeholders. Foreign policy in the 21st century must be value-driven, concentrating on solving societal problems rather than focusing on narrow national interests.
What challenges need to be overcome to create better foreign policy? What leadership traits are needed for this?
Two challenges–and magnificent opportunities at the same time–are the incorporation of diverse actors and the employment of new technologies to facilitate manifold cross-border engagement. As geographical and policy borders become blurred, FP leaders need more diverse professional backgrounds to succeed in their complex and diverse new roles.
My reaction on the Saïd Business School website: "I feel very honoured to have been selected and hope that my research and work contributes to sustainable social change. Oxford, and Saïd Business School in particular provide a magnificent ecosystem in which to generate ideas that shape society."